The difference between being online and winning online
Digital marketing is a broad discipline with a lot of usefull tools, but these are not always used correctly.
It´s common to see companies that misunderstand the difference between being active online and following a thought-out digital marketing strategy. They create profiles on social networks, hoping to get thousands of questions and generate hundreds of sales. With the strong competition on content and millions of companies on the web, only creating a website or open a Facebook fanpage, will not lead us anywhere. It is necessary to give a purpose to these networks. That purpose is the strategy.
Digital marketing is a broad and comprehensive discipline of many tools, platforms and knowledge that is necessary to combine and adjust to get the most out of the web. Actions that are based on a strategy will make the difference. It's what separates the simple 'being online' creation of networks and occasionally publishing in social media without any idea or sense, and 'winning online' as a versatile and advantageous channel for our brand.
Of what consists a digital marketing strategy?
You can find thousands of technical definitions which, in reality, are not very useful in practice. There are hundreds of models and structures to define strategies, but again; what is a strategy? In simple terms, a strategy is a way, a form, a set of guidelines, through which we try to achieve our goals.

And automatically our attention should now take a step back. Before thinking about strategies, we need to think of goals. To define successful strategies, we need to start with goals which are solid, clear, measurable, etc. There are also called: SMART goals (specific, measurable, assignable, realistic, time-related).

Without going into too much detail, since the goal is to talk about strategies in this article, the objectives are SMART when they are defined in a way that allows us to understand where we want to go, how we measure and realize performance and that they are realistic and achievable by the brand.
From these clear objectives, that must be shared and committed by all members of the project or organization, we start defining the way in which we achieve them. And now we continue to talk about strategies.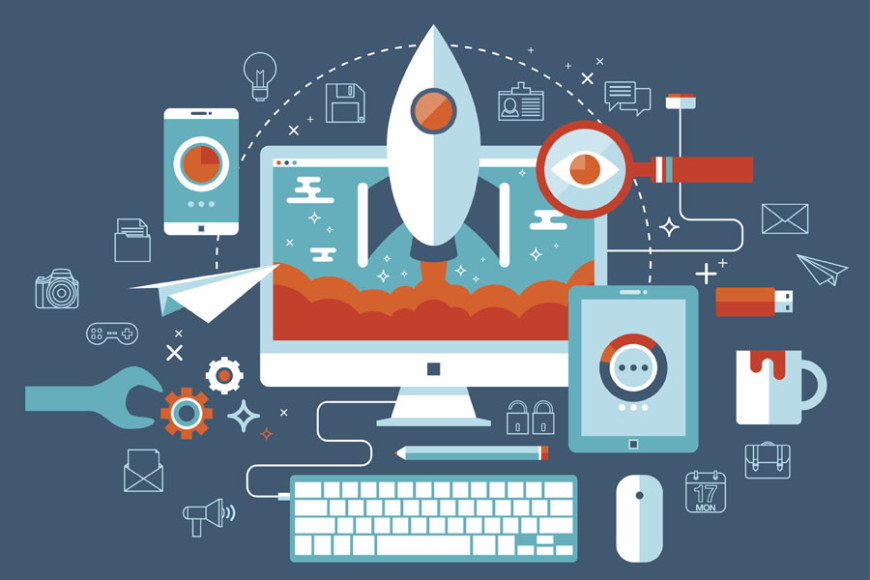 Where do we begin?
Once the, online, objectives are defined, the strategies must solve some specific points:
Platforms. Make a defined selection of online platforms on which we intend to be active. Are we going to create a website? Or an online store? Social networks as well? Facebook and Twitter? Only LinkedIn? It is important to create a mix of appropriate networks according the needs, targets and objectives of the brand.

Integration. How will these platforms interact with each other? What is the main network? In some cases it's appropriate to direct everything from the networks to our website. In other cases we could direct it to Facebook. Each case is unique.

Content and Communication. Is probably the most complex point and this point will really make the difference. What is it about? It's simple, how we are going to talk and about what. Having a platform is the beginning, but producing content to publish is the key task. This point integrates several aspects:

Content. Where are we going to talk about? Find literal themes about the commercial side of your business. Finding points of interest for your target audience is crucial.

Communication. Is to define the tone, the voice, the notation and visual concept of the brand. These are guidelines that help you to improve the quality of the stories that you want to share.

Agenda. How often do you publish? Each network is unique and the users are using them in a different way. Focusing on specific days and times to publish can be an efficient practice.

Response and contingencies. Be prepared to not only know what to respond to frequently asked questions (product prices, shipments, variants, etc.), but also know what to do with a problem (insults, dislikes, claims, etc.).

Traffic. You already have your platforms integrated with a solid content and communication strategy. Now it's time to start making people find these platforms, reach your website and whenever they are looking for a product they will buy it there. Online (Google Adwords) and social advertising (Facebook Ads, Twitter Ads, LinkedIn Ads, etc.) are with e-mail marketing most commonly used as online solution, but you also need to consider the offline world as a traffic generator, a physical store for example.
Defining the strategy is for these decisions the most important. It's not just the numeration of objectives or a beautiful word to mention without a meaning. Strategy is a powerful tool that is necessary not only to understand, but also to know how to use.
If you are thinking about improving the online presence of your brand, do not hesitate to contact us. We have a team of specialists with experience and good ideas to position and promote businesses and brands online.